Automated dispensing cabinets or ADCs are decentralized medication dispensing systems that have taken the North American hospitals and healthcare centers by storm. These systems provide computer-controlled access to the medication at the point-of-care inpatient care units. ADCs are popular as they offer several advantages over traditional medicine distribution systems, including-
Significant reduction in medication dispensing time so that nurses can have more time for monitoring and caring for the patients
As ADCs come with bar code scanners, healthcare providers can easily track medications and other controlled substances.
Some ADC units can interface with external databases improving the efficiency of drug dispensing.
ADCs have been shown to reduce dispensing errors, thereby improving patient safety.
Implementation of ADCs can significantly improve the satisfaction of nursing and pharmacy staff.
How do Automated Dispensing Cabinets (ADCs) work?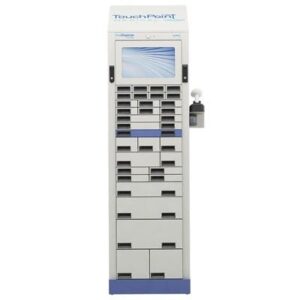 A healthcare provider, mostly a nurse, can access the medication stored in an ADC only by authenticating their identity through multiple methods, including a password or a biometric scan like a fingerprint. The nurse then selects a patient from the list and the medication that needs to be given to the patient. Once it is done, the ADC allows access to the specific compartment containing the medicine. As the access to medication requires authentication by a healthcare provider, ADCs are much more secured than traditional medicine cabinets. Besides, software that runs the ADC unit can track who gained access and convey this information to the pharmacy in real-time.
Most ADC systems also have a robust alarm system that can alert the pharmacy about errors during dispensing.
How can ADCs help nurses?
Nurses can spend as much as 33% of their 8-hour working shift on some other aspects of medication dispensing. One of the biggest advantages of an ADC unit for nurses is the saved time. Several studies have shown that implementing ADCs in hospitals can save the nursing staff time during preparation and dispensing of medication, increasing their availability for taking care and monitoring the patients.
ADCs can also improve the efficiency of nursing staff during dispensing rounds. Most modern ADCs like the ones provided by TouchPoint Medicals run on custom software that can further improve efficiency and reduce dispensing errors.
How can ADCs help pharmacists?
Medications are supposed to be used on the designated patients only, but a pharmacist has little control with no tracking available in the traditional medication dispensing systems. However, with advanced ADCs, a pharmacist can keep a close eye on the inventory of the medicine cabinet and track the use of the medication.
ADCs also have a low inventory alert system to help the pharmacist quickly restock the ADCs without the nursing staff facing stockouts.
Challenges implementing ADCs
While ADCs offer many advantages, there are certain challenges to their implementation as well. There is a resistance to adapt to new technology by the staff of the hospital or pharmacy. With the right training and pilot runs, it is possible to educate and increase compliance.
The second challenge comes in the form of customizability. The ADC must be customized to meet the specific needs and requirements of a facility. Having too many or too few functions can influence how the nursing and other healthcare staff perceive the ADCs.
So, what is the solution?
An ADC system like medDispense® series Automated Dispensing Cabinets from TouchPoint Medical is highly customizable and can fit any medical facility's needs. Some of the advantages of TouchPoint ADCs include-
Flexible design that can be customized and configured according to your needs
Custom software that improves the workflow of nursing and pharmacy staff
An inventory management system for controlled substances
Cabinets with anti-microbial protection
Parting thoughts
Implementation of technology in patient care can tremendously improve the efficiency and standard of care. With ADCs in place, nurses can spend more time caring for their patients rather than managing the dispensing and distribution of medications.