FamilyTime is one of the best known parental control apps available in the market, but do you know the reasons behind its popularity? If not, read our post and understand why FamilyTime is a great parental control app. Read on!
Let's begin with the basic. The primary reason that makes FamilyTime parental control app best among the rest is its usability. The app is considered easy to use, and it comes packed with many functions such as GPS tracking, browsing web history, internet filtering, SMS tracking, contact monitoring, screen time management, and speed limits, etc. Taking all those aspects into account, we can rate FamilyTime as one of the best parental control apps. You can even block some of the apps, depending on your requirements. To give you a good idea, here is the complete feature list of FamilyTime app. Have a look!
Feature List of FamilyTime app
As said earlier, FamilyTime is a feature-rich application, and it provides a solution to almost all parental concerns through its below-given functionalities:
Contact Monitoring: Monitor the contact book of kids with additional details saved in it such as email address, home address, date of birth etc.
Call Log Monitoring: Keep a check on who connects with your kids via call by looking at their call logs. You can see all the dialled numbers, missed calls and received calls etc.
SMS Monitoring: Check SMS history of kids to know who do they talk to and what is that something they talk about.
Contact Watchlisting: Watchlist suspicious contacts to receive alerts every time a contact is made from any side either through calls or SMS.
Application Monitoring: A system to monitor all installed apps of kids
Application Control: Blocks inappropriate content or restrict it for some time with app control features.
Management of screen time: Allows parents to limit the time their child spends playing and using other applications, even when the child is away from home.
Web Control: the application automatically blocks preset websites by categories, such as adult sites or with offensive content, based on the age of the child. You can also include additional categories or specific websites.
Web Filters: Parents can add specific topics or keywords to the block list, so no site containing those words or information related to those topics appear in their search results.
Children Locator: allows parents to request the current location of the child's device at any time.
Geo-fencing place: With FamilyTime, parents can mark virtual fences around certain places that their kids visit regularly or more often.
Teen safe drive: The app allows parents to set a speed limit for their kids' safe drive.
Alerts: The app sends parents alerts in a number of situations, including when the child exceeds set speed limit when he enters of exists geo-fenced places, when it is time to pick them up or when there is an emergency.
Phone Lock: Parents can put a remote lock on kids' device that will block the screen of the child's phone until the kid enters the unlock code available with parents.
Reports for Parents: detailed reports on the use of applications and web pages. Reports are available to view at any time using the Parent Dashboard in the application
The next reason that makes FamilyTime a prior choice for parents is its pricing.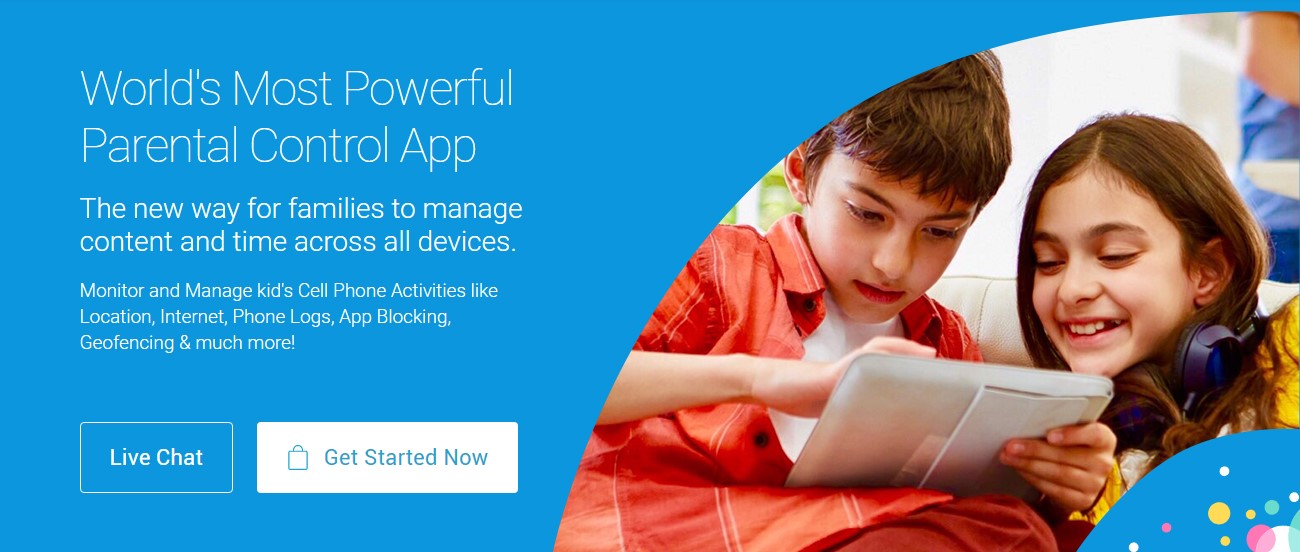 Cost or price plans of the app
It has three premium packages with the one free version. You can start off with the 3-day free trial of all premium features, and once you are hooked up, you only have to spend a couple of dollars a month to continue using its premium package. Even if it's not suitable for you, then you can go for its free package with limited specs.
With this, the app offers efficient customer support.
Contact Info and customer support
Every app offers support services, but FamilyTime is offering a different alternative for customer support. You can contact company representatives through Live Chat, in-app support or by sending them an email. This means that the support is available 24/7. Let me tell you that I had to contact them for assistance in the installation process, and the response was really fast and satisfactory. For the in-app support, go to your app dashboard and open your profile, use the help option and chat live with the customer support representative.
Conclusion
Well, as you can see, FamilyTime is an exceptionally efficient Parental Control app. Interestingly, the app allows you to use about 90% of the functions, even if you are using its trial version. Therefore, you can consider FamilyTime to be one of the best solutions to protect your children from online threats.