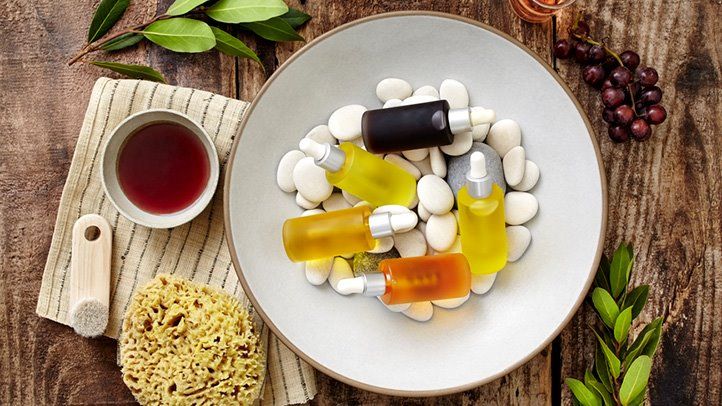 The skin plays a significant role in our overall health. It is not only the largest organ, but also semi-permeable. When you apply a substance over it, it will be absorbed into the body. Essential oils are quickly absorbed by the skin and therefore make a great addition to your skincare routine.
Since essential oils offer tons of benefits to health, many experts, and an ever-increasing legion of women worldwide, recommended the use of essential oils. They are natural-based products that do not contain toxins, which of course can harm your body. Read on to know more about essential oils and how they can help you live a better and longer life.
Benefits of essentials oils for your skin
Essential oils provide tons of benefits to the body. Here are some examples:
Moisturize the skin by deeply penetrating into the deepest layers;
Heal sun-damaged skin, injury, burns, or wrinkles through stimulation and cell regeneration;
Combat infectious bacteria, fungi, and viruses, including those associated with acne and other skin issues;
Soothe injured or sensitive skin;
Reduce inflammation and puffiness;
Regulate over- or under-active oil glands;
Help control sebum production;
Remove waste products from the body;
Help fight stress-related skin issues
The good thing about using essential oils is that they give you more than what you expect. They do help improve your beauty, but they also promote better health. When choosing skincare products, you have to be aware of the other health benefits they offer, too.
Best Essential Oils For Skincare (based on skin type)
There are many essential oils out there that you can choose from. However, looking for the right one can be confusing. Below is a guide to help you buy the right essential oils for your skin type and for certain skin conditions:
Normal Skin
Your skin is soft, fine, and smooth with no significant issues BUT, you still want to keep it that way naturally! This skin type is well-balanced with only a few problems, including flakes and spots. The most recommended essential oils for this skin type are: geranium, chamomile (Roman and German), Rose, Neroli, and Lavender.
Essential Oil Skin Toner Recipe
2.5 oz Rose water/hydrosol
5 tsp glycerine
8 drops chamomile
8 drops lavender
7 drops sandalwood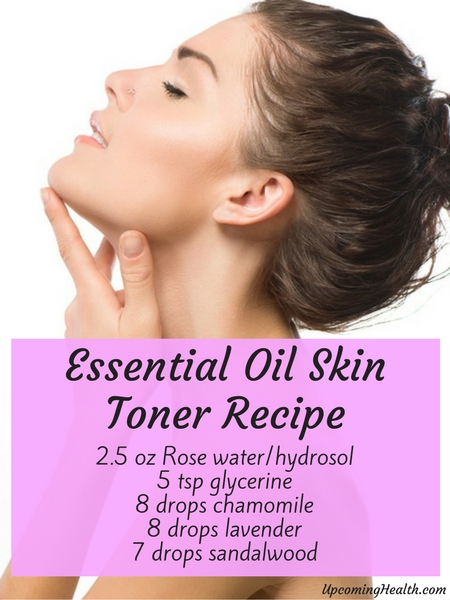 Sensitive Skin
If your skin is sensitive from exposure to various substances such as chemicals, soaps, food, or cosmetic products, essential oils could be the answer. You are always advised to do a patch test on a small area first before trying out a new product. When using essential oils, make sure to do so in low concentration. The recommended oils are: chamomile (Roman or German), Rose, Neroli, and Lavender.
Neroli For Sensitive Skin
3-5 drops of neroli
1 ounce of raw shea butter
Mix and apply as required
Oily Skin
Your skin has a shiny appearance, and may have large pores that are prone to blackheads, spots, and acne. For this skin type, you will want to consider the following essential oils: lavender, geranium, cedarwood, grapefruit, cypress, and sandalwood.
Fennel Ice Cubes Essential Oil Recipe
1 x glass distilled water
5 drops of fennel essential oil
Freeze in Ice tray
Dab on skin to close pores and minimize oiliness!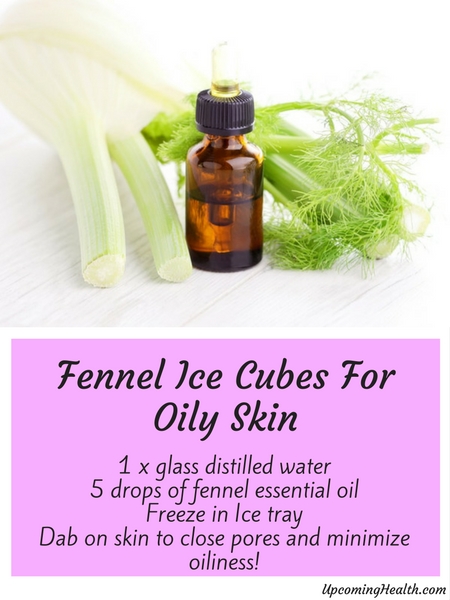 Dry Skin
Your skin is fine, but can feel tight right after washing with soap. It may also look flaky. This skin type is prone to developing wrinkles and lines at a faster rate than the others. The ideal essential oils include chamomile (Roman or German), neroli, jasmine, lavender, rose, sandalwood, and geranium.
Lavender & Patchouli Oil Dry Skin Recipe
5 drops lavender oil
5 drops patchouli
30ml of carrier oil
Massage into skin!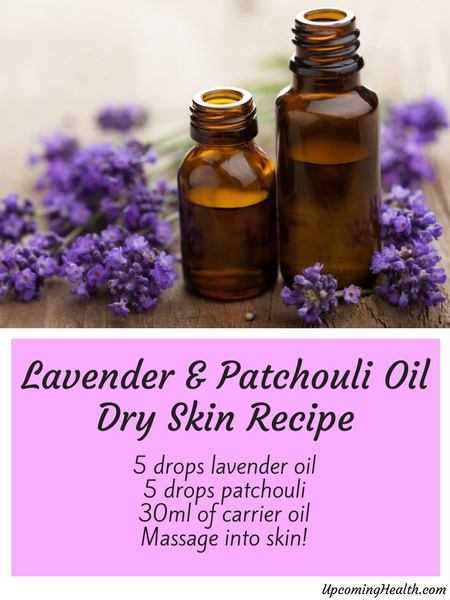 Combination Skin
Your skin is oily on certain areas, most commonly on the T-zone (forehead, nose, and chin). The skin around your cheeks, eyes, and neck is dry. The ideal essential oils for this type are frankincense, chamomile (Roman or German), rose, lavender, bergamot, and geranium.
Essential Oil Recipe For Combination Skin
10 drops Bergamot OR
10 drops Lavender
1 tbsp jojoba oil
Apply morning and night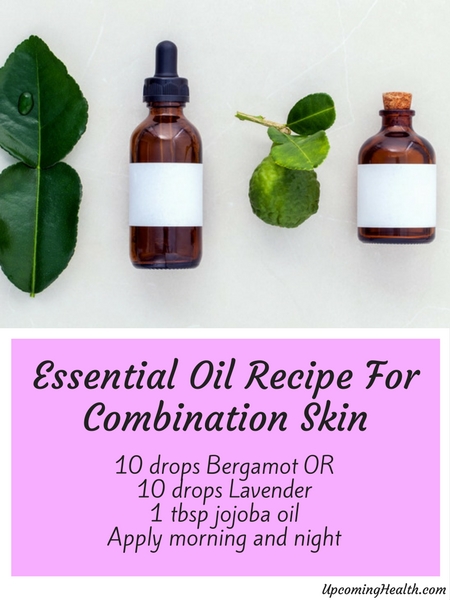 Spider Veins
These are broken veins that occur normally around the nostrils and cheeks. People of all skin types are prone to this condition, especially to those with sensitive skin. Essential oils for this type are frankincense, chamomile (Roman or German), geranium, rose, and neroli.
Essential Oil For Spider Veins Recipe
20 drops of cypress oil
15 drops of lavender oil
10 drops of lemongrass oil
1 ounce of carrier oil (jojoba or olive oil)
Mix the ingredients and store in a dark glass bottle
Apply this blend twice daily on the affected area.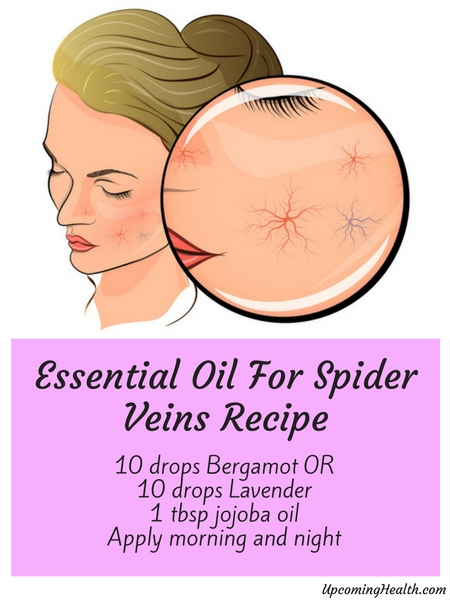 Ageing Skin
The skin ages over time, and it needs constant toning and nourishing. Ageing skin will show discoloration, wrinkles, sagging, and dryness. If you have ageing skin, then you will find benefit from: geranium, frankincense, neroli, jasmine, rose, patchouli, and sandalwood.
Firming and Anti Aging Skin Serum
2 tbsp Rosehip Seed oil
2 tbsp Sweet Almond oil
10 drops Cypress oil
10 drops Geranium oil
7 drops Frankincense oil
Apply morning and night for firm skin!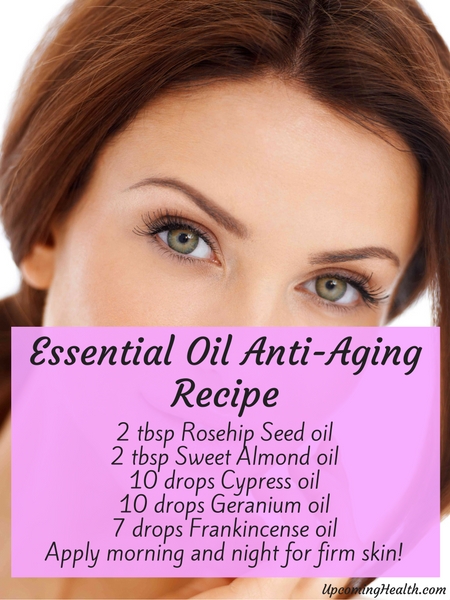 Application tips
Applying essential oils over the skin is easier than you think. However, you have to be extra careful to ensure no irritation occurs. You have to dilute the oil in a cream, base lotion, or carrier oil before every application. For the face, you will want to stay between 0.5 and one percent dilution. Two percent is recommended for body application, while three percent is for general massage.
You can store the mixture for future use, but it must be done properly. People with sensitive skin should focus on the lowest dilution of 0.5 percent, and must perform a patch test. These application tips are crucial to ensuring that no harm will be done on the skin. While essential oils are natural-based products, your skin might not be able to tolerate any of them, especially if you have the sensitive type.
Conclusion
Essential oils are recommended by experts for numerous reasons. Your whole body benefits from what they have to offer, allowing you to feel great every day. The guide above will help you try out several oils carefully, and be able to choose the right one with ease.